Rudolph Auto Repair is proud to announce 60 years in business!
Started in 1956 by Charlie Rudolph, Rudolph Auto Repair has become a successful, trusted, community landmark. Please come out and help us celebrate these past 60 years; in addition, say Thank you to all our loyal customers.
We will be having prizes and give-a-ways through the end of August. Two lucky folks will win 25 gallons of regular gas a month for a year!
Save the date! July 22, 2016, the North Park Lounge food truck will be here from 10 am- 2 pm. Stay tuned for more about our celebration!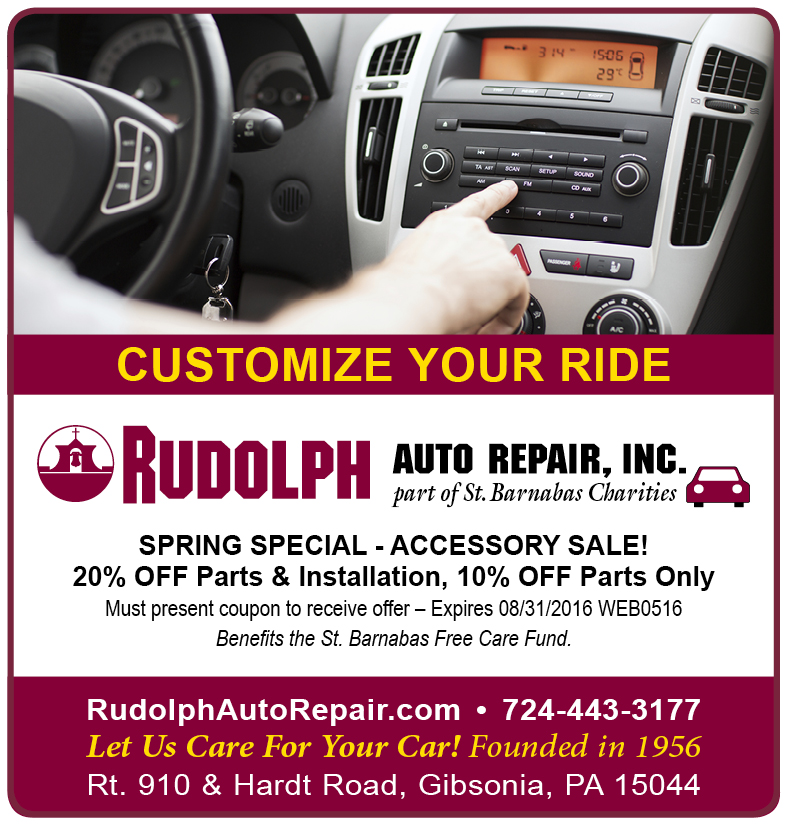 Located in the Richland Township community, Rudolph Auto Repair is one of the corporations within St. Barnabas Charities. Every time you fill-up or have your car repaired, you're helping the poor and low-income patients who rely upon the St. Barnabas Free Care Fund.
Rudolph Auto Repair is a full-service station, family operated by local resident John Rudolph and his son, Chris. All vehicles are parked safely in-doors during unattended shop hours with regular security patrols. Visit our new website
Hours: Monday - Friday 7 am - 6 pm | Saturday 8 am - 1 pm
Services include:
Full Service Gas Station
State Inspections - Vehicle and Motorcycle
Vehicle Repair - All models
Front and Rear Alignments
Auto Detailing Packages
30-minute Oil Change
Emissions Testing
Windshield Wipers, Batteries, Brakes, Tires
Great Customer Service!